Multi Symptom Relief for Genital Herpes Symptoms | FemiClear®
Looking for a genital herpes cream? Try the FemiClear topical ointment that kills 99.9% of the herpes simplex I & II viruses†1 (HSV1 & HSV2) and works fast to relieve Itching & Tingling + Pain & Burning symptoms caused by a herpes outbreak. Not a cure for herpes.
Need It Today?
FIND LOCAL RETAILERS

FIND A RETAILER
FIND A RETAILER
FIND A RETAILER
FIND A RETAILER
FIND A RETAILER
#1 Best Selling Ointment for Genital Herpes Symptoms†3
Over 90% of users reported less severe itching, pain, and burning than their typical outbreak in a self-reported study†2
Made with All-Natural and Organic Ingredients
Also available for Him

Discreetly Packaged & Shipped
100% Money Back Guarantee
Manufactured in the USA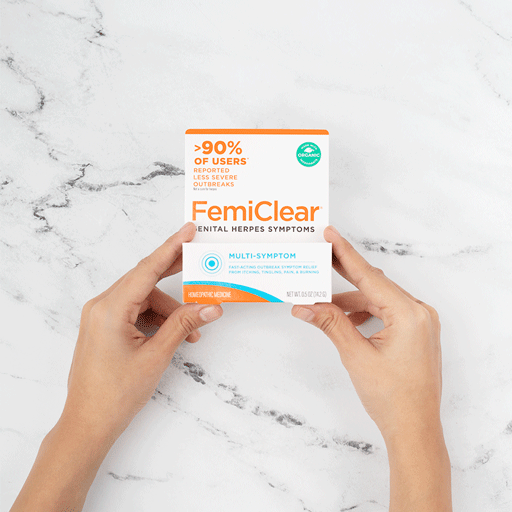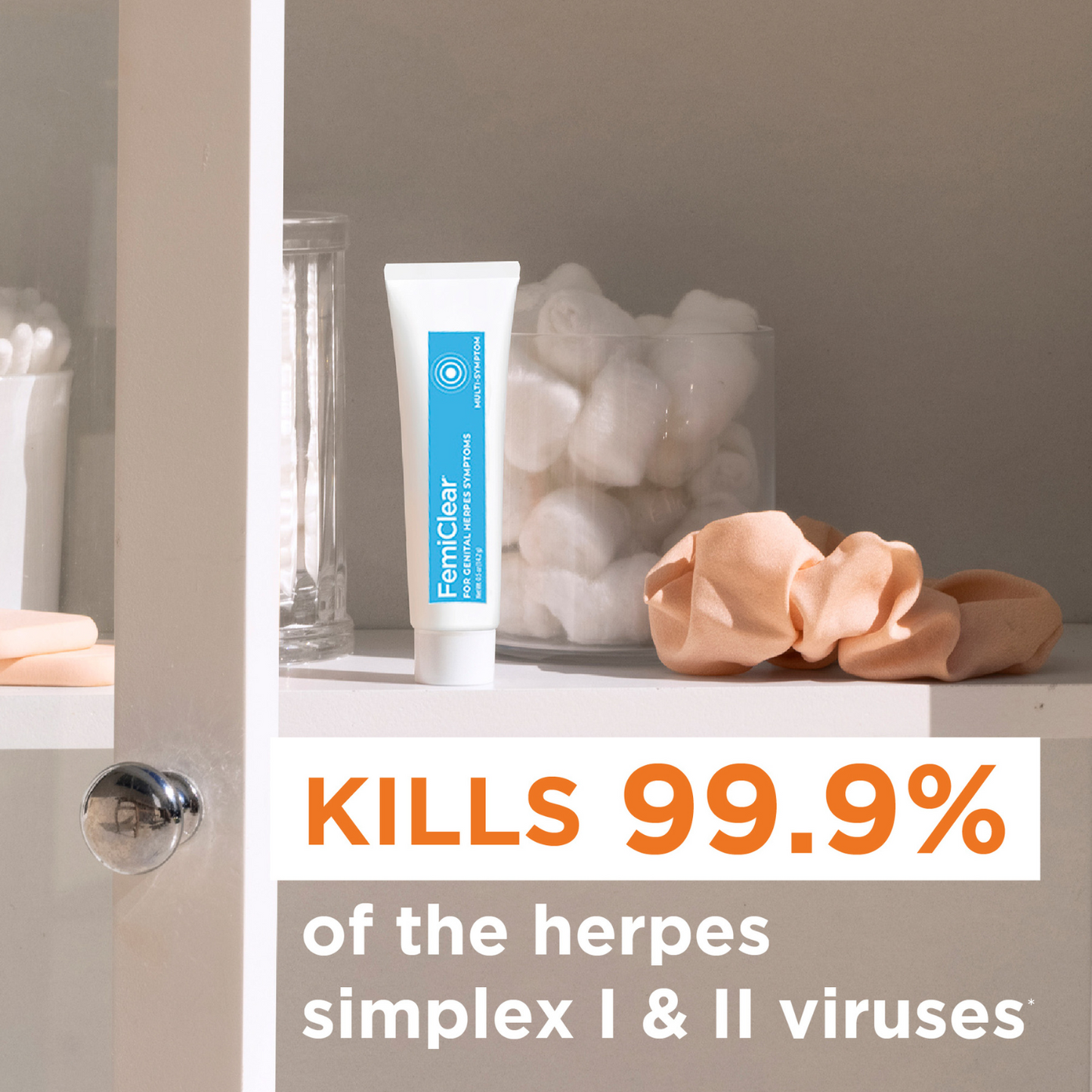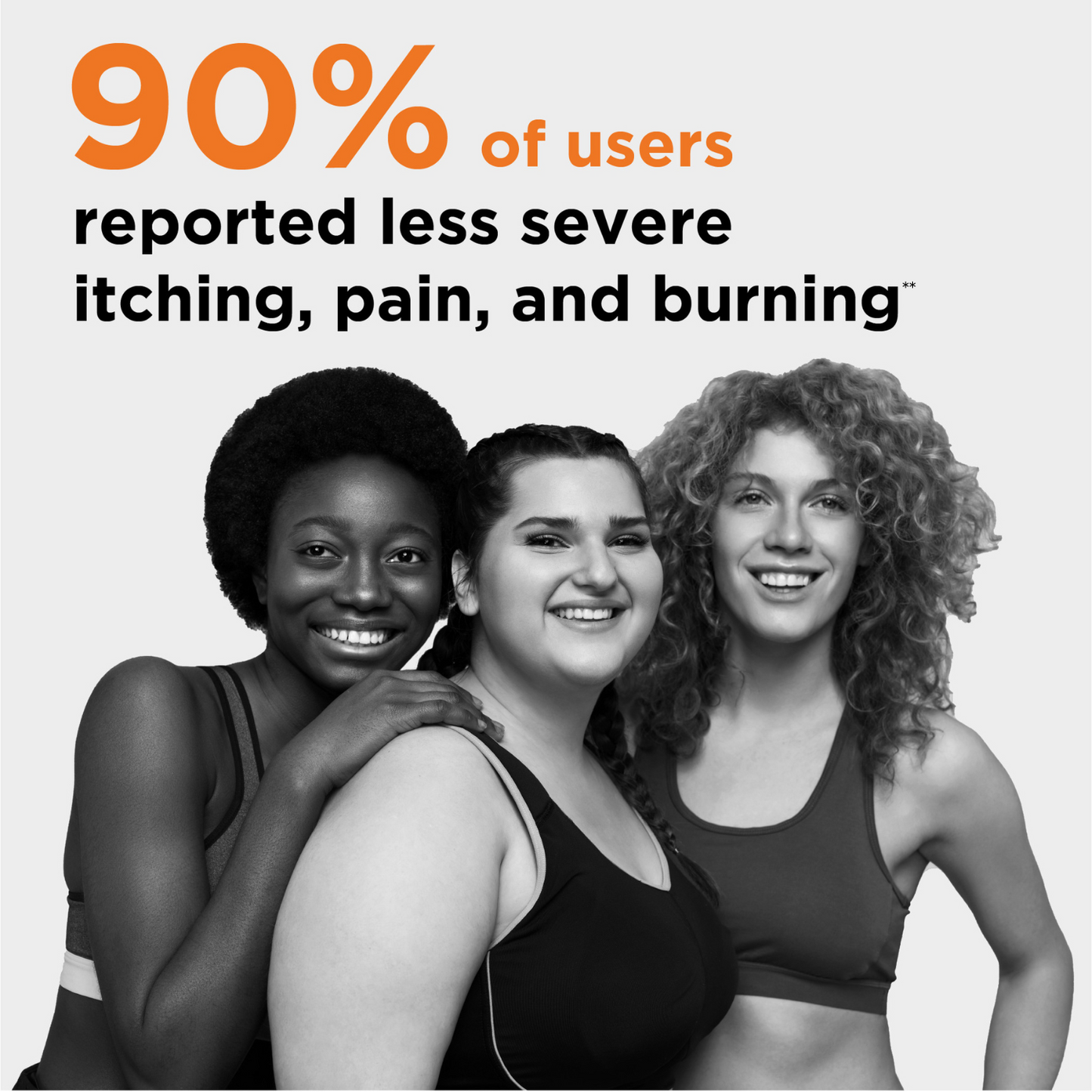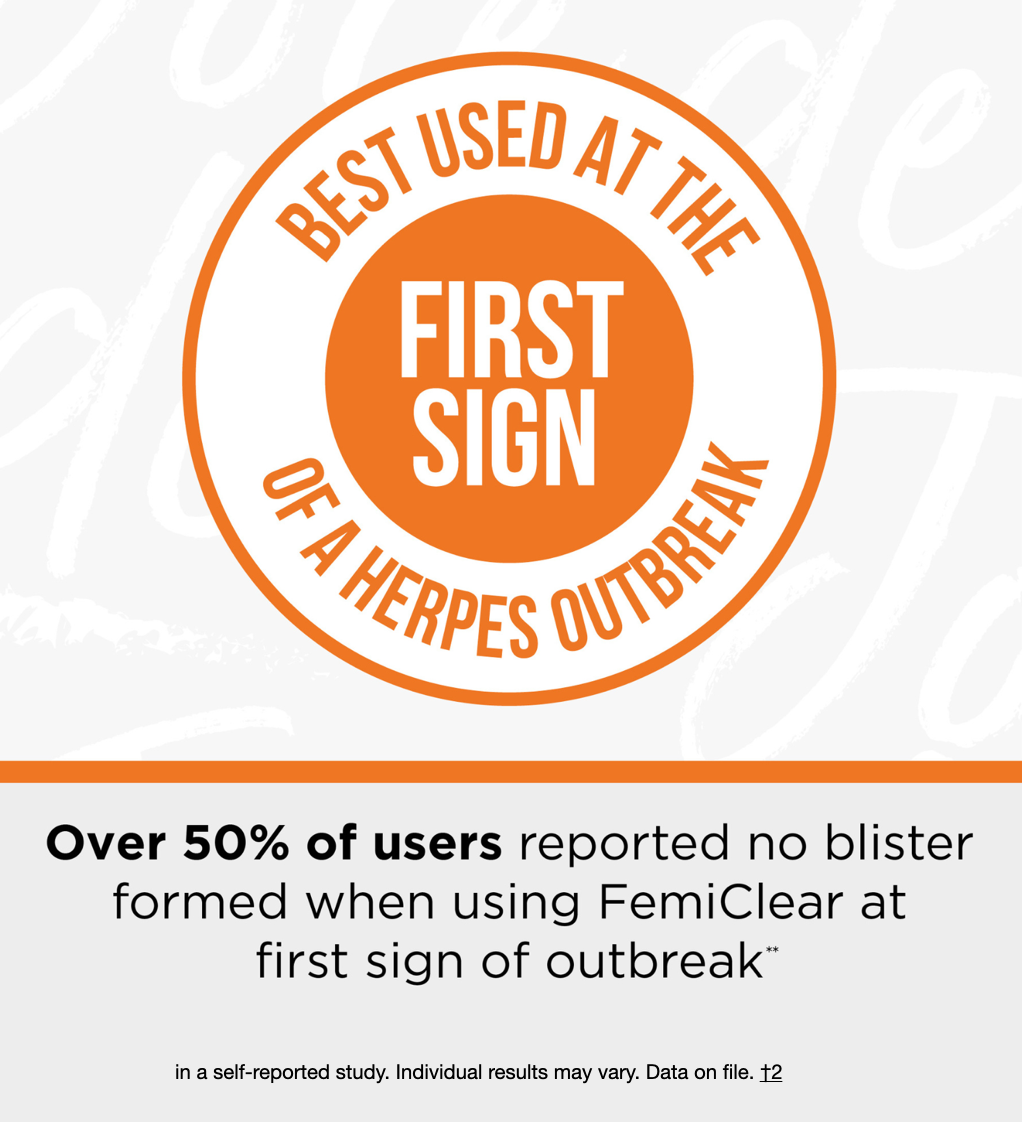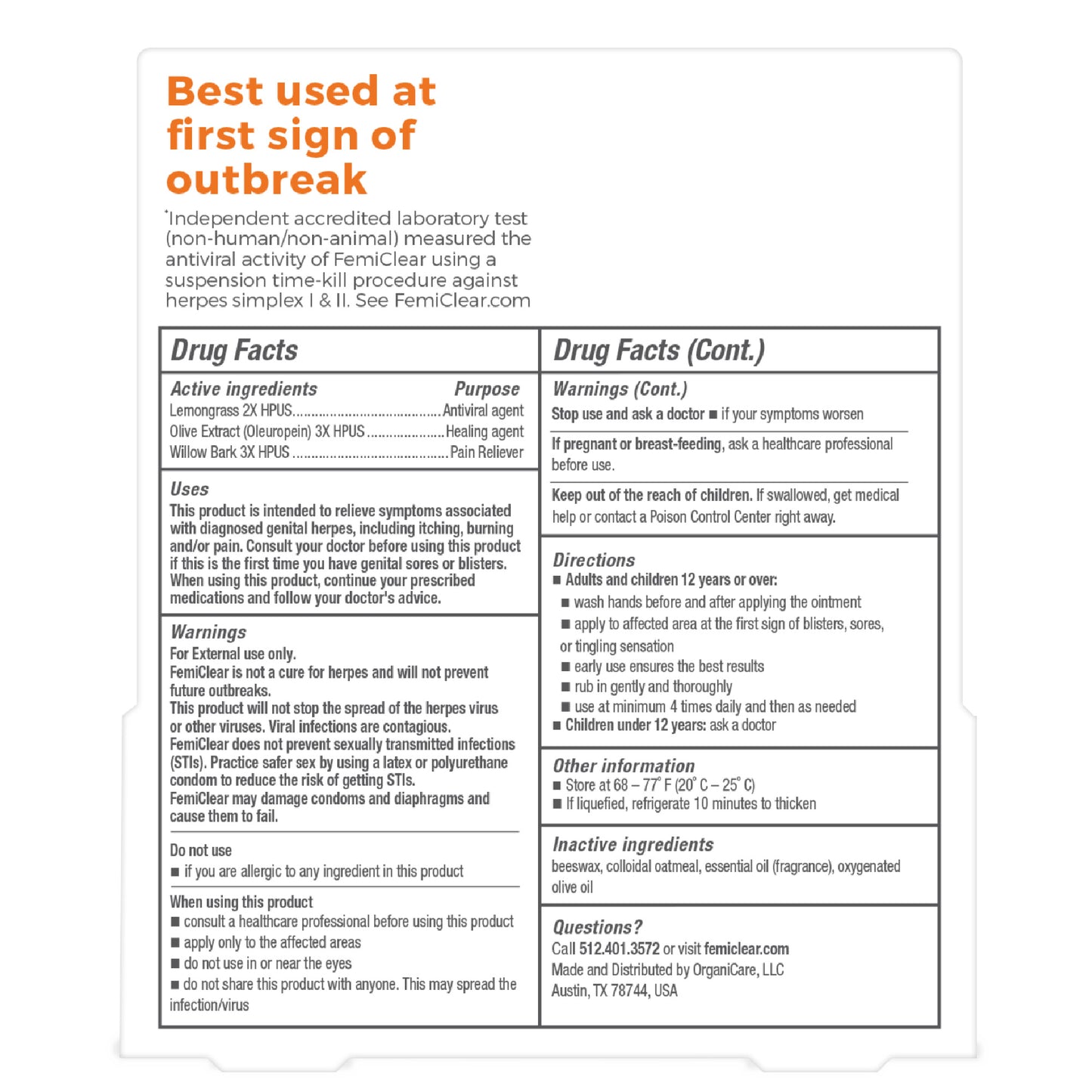 Multi Symptom Relief for Genital Herpes Symptoms | FemiClear®
Why OB/GYN Dr. Jessica Shepherd, MD Trusts FemiClear For Her Patients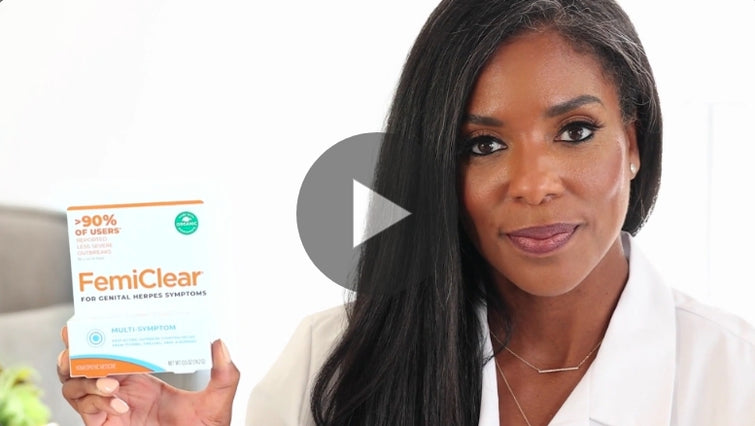 Easy to Apply at First Sign of an Outbreak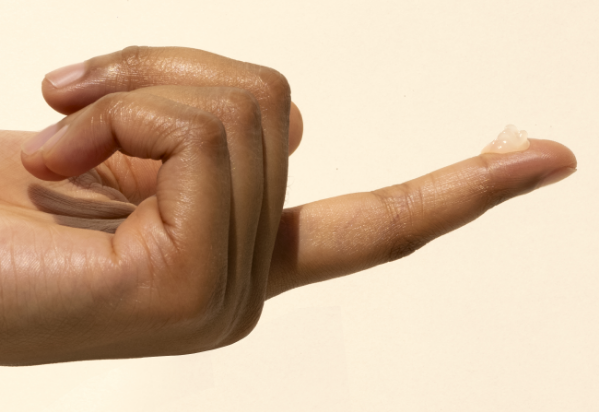 Wash hands before and after applying the ointment.
Apply generously to affected area. Rub in gently and thoroughly.
Use at minimum 4 times daily and then as needed.

When using this product, continue your prescribed medications and follow your doctor's advice
How Natural Ingredients Ease Your Outbreak Symptoms
Oxygenated Olive Oil/Olive Extract
Healing effects of pure olive oil combine with life-giving oxygen to create a highly effective, natural solution

Colloidal Oatmeal
Known to soothe skin irritation and dryness

Beeswax
Known for its ability to protect the skin, heal wounds and fight infection

Willow Bark
Reduces inflammation and pain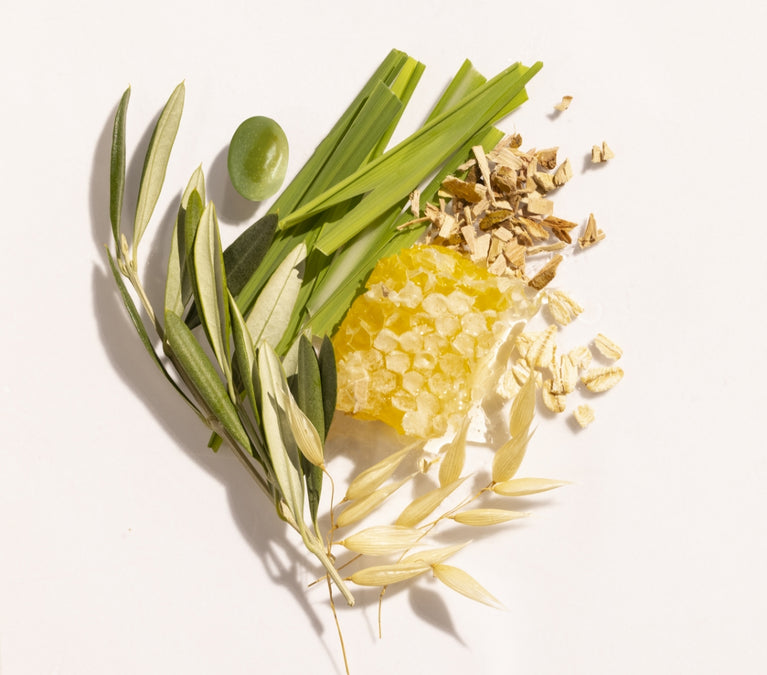 How FemiClear® for Genital Herpes Symptoms Works
FemiClear's formula consists of ultra-pure, certified organic olive oil. The olive oil undergoes a proprietary oxygenation process that, combined with olive extract and lemongrass, creates a highly antiviral substrate. FemiClear for Genital Herpes Symptoms – Multi Symptom also includes willow bark extract for pain relief and colloidal oatmeal for itch relief, both of which are often experienced during an outbreak. †1
Real People, Real Symptom Relief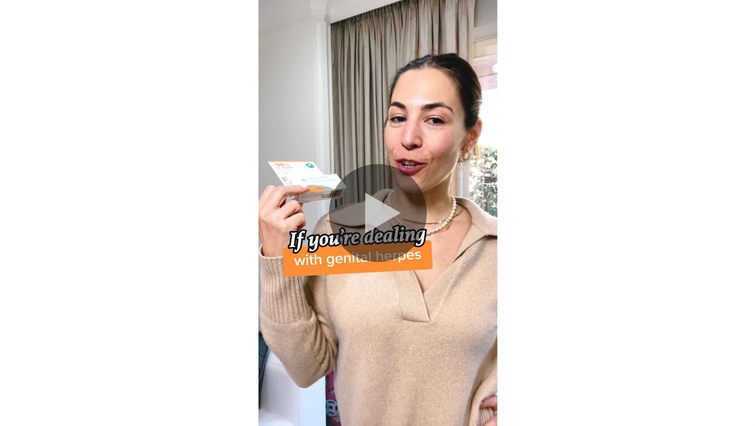 I have had genital herpes for 35 years, and in the past 15 years, the outbreaks have been horrible and hard to get rid of. I won't take meds because they mess up my stomach. However, this ointment effectively eliminates the blisters within 24 hours. I have tried EVERYTHING, and this product truly works.
-Holli C.
☆ Individual results may vary.





This product helped me so much! I felt an outbreak starting (tingling, irritation), and after using it, the next day, my symptoms were gone! It is definitely worth the money and is amazing! I'm very glad I found this product.
-Tay
☆ Individual results may vary.





I knew something might be coming because I had a sensitive area that was pink and became even more sensitive and slightly swollen after a day. I discovered this cream, went and picked it up, and applied it. I noticed a difference by the next time I checked. I am writing this review less than 24 hours after the first application, and it's almost gone. An outbreak was most likely prevented, and it provided me with such peace of mind instead of the usual stress and dread. This peace of mind is invaluable.
-J.M.
☆ Individual results may vary.
Frequently Bought Together
FAQ
How do you pronounce FemiClear?
Our name is a blend of feminine + clear, pronounced "fem-eh-clear."

What is FemiClear for Genital Herpes Symptoms?
FemiClear is an ointment for genital herpes outbreak symptoms that contains all natural and organic ingredients. If you have been diagnosed with genital herpes by a medical professional in the past and have an outbreak with symptoms such as burning, and/or pain, then FemiClear may work for you. If this is the first time you have what appears to be an outbreak, you should see your doctor or health professional to obtain a diagnosis.
Do I need a prescription for FemiClear for Genital Herpes Symptoms?
Nope! FemiClear is over-the-counter, so it's always there when you need it. Consult your doctor before using this product if this is the first time you have genital sores or blisters. Find FemiClear near you in the "Buy Now" section of our website.

Can I use FemiClear for Genital Herpes Symptoms with my prescription?
Yes. FemiClear can be used with prescription antiviral medications that your doctor may have prescribed for you. It is not intended to replace your prescription medication.

Can I use other vaginal products with FemiClear for Genital Herpes Symptoms?
FemiClear may damage condoms and diaphragms and cause them to fail. Do not rely on condoms and diaphragms to prevent pregnancy or sexually transmitted diseases while using this product.

It burned a little when applied. Is that normal?
It's possible that you can experience a temporary increase in burning after you apply FemiClear. This discomfort can range from mild to intense and it can be caused by a couple of factors: 1.) increased sensitivity of the vagina during an outbreak 2.) how far into an outbreak you are. For women who experience discomfort with FemiClear, most of them report that subsides quickly. Rest assured that this possible burning is a known side-effect and while not pleasant, FemiClear is working to provide symptom relief. Stop using FemiClear and talk to your doctor if you have abdominal pain, hives, skin rash, or if you have severe burning, itching, irritation, or swelling.

Is there supposed to be a safety seal on the tube?
No, the industry standard is that the packaging as a whole has to be tamper proof. Therefore we have added tamper seals to the outer carton. If the seals are broken or missing, do not use.

Can I use FemiClear for Genital Herpes Symptoms during my menstrual period?
 Yes, FemiClear can be used during your menstrual period. In fact, many women get herpes outbreaks just before their period because of hormonal changes.

Can I have sex while using FemiClear for Genital Herpes Symptoms?
FemiClear will not stop the spread of the herpes virus or other viruses. Viral infections are contagious. FemiClear does not prevent sexually transmitted infections (STIs). Do not rely on condoms and diaphragms to prevent pregnancy or sexually transmitted diseases while using this product. FemiClear may damage condoms and diaphragms and cause them to fail.
How often can I use it?
Use FemiClear at minimum 4 times daily and then as needed.

Why does it have a scent?
Because FemiClear is made with all natural ingredients, it has an "organic" smell. We have added a signature blend of all-natural essential oils to help create a fresh scent.

Why is it kind of runny?
FemiClear is an all-natural product, without any added artificial thickeners. We did add beeswax, a natural thickening agent. However, if it's too runny for you, we recommend you pop FemiClear in the fridge for 10 minutes before use.

Is FemiClear for Genital Herpes Symptoms vegan?
No. FemiClear for Genital Herpes Symptoms contains beeswax.
How is it made?
FemiClear is manufactured under current strict Good Manufacturing Practices per U.S. Food and Drug Administration (FDA) guidelines using a proprietary process.

Is it a registered product in the USA?
FemiClear is registered in the FDA National Drug Code Directory.
Total 5 star reviews: 94
Total 4 star reviews: 42
Total 3 star reviews: 5
Total 2 star reviews: 3
Total 1 star reviews: 1
94%
would recommend this product
What did you like about this product?

Natural Ingredients,

Fast-Acting

This helped with

Discomfort

Cysts

This product is super wonderful for my cysts. I also have used the yeast formula with a great success

F

FemiClear

1 month ago

Thank you for sharing your experience and use with our product! Although our product is not for cysts, we're overjoyed to learn that our product has been effective in managing your cysts. Your success with our yeast formula is also wonderful to hear! Your trust and satisfaction are what motivate us to keep striving for excellence. Thanks for your positive review and for your loyalty to our brand!🧡

What did you like about this product?

Fast-Acting,

Soothing,

Easy to Use,

Effective

This helped with

Outbreaks,

Burning,

Itching,

Discomfort,

Pain

This is what you need

This product save me a lot of severe discomfort itching n burning. I recommend this to everyone. I know someone is going through it. Femiclear is better than taking a pill. Apply and symptoms went away.. just ordered 2 more. Awesome.

F

FemiClear

3 months ago

Thank you so much for your kind words! We're so glad you felt the results for yourself and that you believe in our product as much as we do. Your feedback means everything to us and so much more! 🧡

Barbara B.

Verified Buyer

Multi Symptom Herpes

Symptoms were better after, one day, gone in three days.

F

FemiClear

4 months ago

We're so happy you loved our product! Thank you for writing such a great review, we can feel the love from here! Relief has made its way to you, and we couldn't be happier knowing this!

Jan

Verified Buyer

Miracle Product for me!

I did not ask for this virus 35 years ago. The person that gave it to me, whom I trusted enough to be in a relationship with, was totally neglectful of my health. I have suffered with this virus for so long and put up with symptoms and outbreaks for all that time...until now. Even with antiviral medicines, I still had problems. This product is a miracle! I was devastated at the recent loss of one of my pets and of course, stress was causing me to feel an outbreak coming on. Being it was a Friday and I could not get help from my doctor for a prescription, I went online to see if there were any new medicines or products. I found your FemiClear and decided to go to Walgreens and purchase it. That decision was the best decision I have ever made regarding this virus. My symptoms were coming on like fire and FemiClear threw water on it! Within 24 hours, my symptoms were pretty much non-existent and after 48 hours, they were 95% gone! I will use for 72 hours because I feel that should take care of it.. I didn't even get 1 blister! This product was well worth the money I spent, even tho the smell is a bit strong...a small thing to deal with as this virus is a whole lot worse. Thank you so much for your product! It has changed my life!

F

FemiClear

3 months ago

Congratulations and thank you for your kind words and feedback after trying FemiClear! We are grateful for your efforts to help other customer make informed decisions about their bodies. Please accept this $10 Amazon gift card as part of our monthly efforts to randomly select 3 winners who wrote us a review. Please hit "redeem" to use your gift card. The gift card is sent to the email that you used to write this review. Thank you!

Tina K.

Verified Buyer
Reviews Loaded
Reviews Added
Choosing a selection results in a full page refresh.
Something went wrong, please contact us!
Discounts applied at Checkout